Sunshine At-Home Swim Lessons
Will return again in the Summer of 2022
The Sunshine experience is coming to you.  The Sunshine Swim Center provides quality at-home swim lessons starting in June of 2021. If you would prefer to have swim lessons in the privacy of your own pool we are happy to answer-the-call.
Private and Semi-Private lessons are also available at the Sunshine Swim Center.  Looking for group classes?
Demonstration of our At-Home swim instructor, Whitney, teaching a lesson.  Facebook Live of Swim Lesson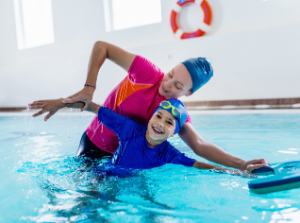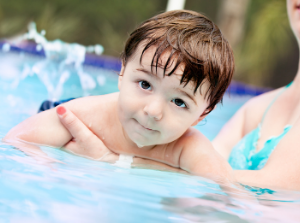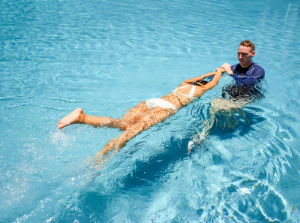 At-Home Swim Lessons
We come to you!  At-Home Lessons are 50-minutes in length.  All swimmers can be taught at once for the entire 50-minutes or the time divided among the swimmers, as private lessons.
Cost:  $119 per 50-minute lesson
Scheduling:  Click on the "Registration" link below.
Lessons are booked one day at a time.
* An additional cost of $10.00 per lesson, if your home is outside of the 10 mile radius of Sunshine Swim Center 9360 Elk Grove Florin Road, Elk Grove, CA 95624.
* Semi-Private lessons can not be booked on-line. We'd be happy to help you make arrangements. Visit us on the pool deck or call our office at 916-685-7462.  
Every Swim Instructor will come prepared to teach.
Arrive in Sunshine Swim Center Uniform of Shirt and Shorts with our logo embossed on it.
Current lifeguard certification card
Mask and small trauma kit
Coaching equipment such as; kick boards, rings, noodle. (vary based on lesson goals)
Instructor will arrive 5-7 minutes before the start of the class.  Swimmer should be ready poolside with swimsuit on, hair pulled up and away from the face with hair tie, and with goggles if used by swimmer.
Class will begin promptly at it's scheduled time.  If your swimmer(s) is not ready the time will not be extended.
We hold our Swim Instructors to the following standards for their safety as well as yours.
Instructors are not to:
Enter the residence to get to the pool but use a side gate.
Use the bathroom at the residents home.
Accept food or beverages from resident.
Provide additional swim lesson or lifeguarding services to the family outside of Sunshine Swim Center agreements; will result in an automatic termination of swim lesson agreement and swim instructor position.
Things to Consider Before Enrolling in this Program
There are no real specifications for pool size or depth for this program. But for best teaching conditions use of an in-ground pool with a depth of 3.5 feet or deeper are recommended with a swim length of 7 yards or 21 feet.
We can teach any level at your home pool.  For more advanced swimmers, they may benefit from the larger swim area provided at the Sunshine Swim Center.
It is the responsibility of the client to have your pool ready for instruction – pool covers off, pool free of debris and toys removed.
For the safety and well being of our instructors we will not hold classes in an unkept, not properly sanitized pools.
At-Home Swim Program Policies
Payment
To secure your lesson spot, payment in full for the program is necessary at the time of registration. We will charge the card on file once the registration is received. Delay in payment or declined credit cards will result in your swimmer to be dropped from the schedule. A 48 hour grace period will be granted for unaccepted payments.
Refunds and Cancellations
There are no refunds for SSFC programs.
At-Home Swim Lesson Make-ups/Cancellations Due to Illness:
If you or your swimmer are exhibiting the following symptons please call to reschedule your At-Home Lessons.
Symptoms may appear 2-14 days after exposure to the virus. People with these symptoms may have COVID-19:
Shortness of breath or difficulty breathing
New loss of taste or smell
Cancellations:  We will award a change in the scheduling of a class with a minimum of 8 days.  The parent must contact the main Sunshine Swim Center office via email (sunshineswimcenter@gmail.com) to request a change in schedule.  Inside this time frame we will not be able to issue a change in scheduling.
At-Home Lesson Cancellations by Sunshine Swim Center:
Swim Diapers are required for all swimmers not 100% potty trained. Please be aware, there will be no make-up sessions or class time if your swimmer has an accident in the pool.
Please do not assume class is cancelled if it is raining. Make ups will not be granted if you are not available for your lesson.
If Sunshine Around Town; Sunshine Swim Centers At-Home swim lesson program, cancels a class for any reason (such as lightning) a make-up time will be scheduled for the remaining portion of the class; if greater than 10 minutes.
For the health and safety of your family and our instructor if we arrive at your home and your swimmer is exhibiting symptoms related to COVID-19 we will reschedule your lesson for a different time.
*The office at Sunshine Swim Center will contact you about any cancellations of your lesson. Not the swim instructor. (The exception would be if lightning was occurring during the class time.)
 Transfer of Classes/ Programs
There are No Refunds. If your schedule changes and you need to adjust your swim schedule you may transfer to a different day or time up until the close of business  8 days prior to the day of the class.  Attempting to reschedule your class after the final transfer date will result in loss of spot and no option for transfer or credit for class to your Sunshine Swim and Fitness Center account.  It is the responsibility of the family to contact the Sunshine Swim and Fitness Center for any changes in the enrollment of their swimmer(s) at least 8 days prior to the start of the session.  There are no refunds.
Returned Checks
A reprocessing fee of $25.00 will be collected for checks that are returned due to insufficient funds. This payment in addition to the original payment will need to be made within 3 days of notification of Non Sufficient Funds. Students will not be allowed to participate until payment is made.
Questions and Concerns?
If you have any questions or concerns regarding your child there is a 5-minute transition period between the classes to briefly speak with their instructor.  You may also bring your questions and concerns to the attention of the Aquatic Director, Kristin Threw, kristin@sunshineswimcenter.com
Registration for At-Home Lessons will be Available March 1.