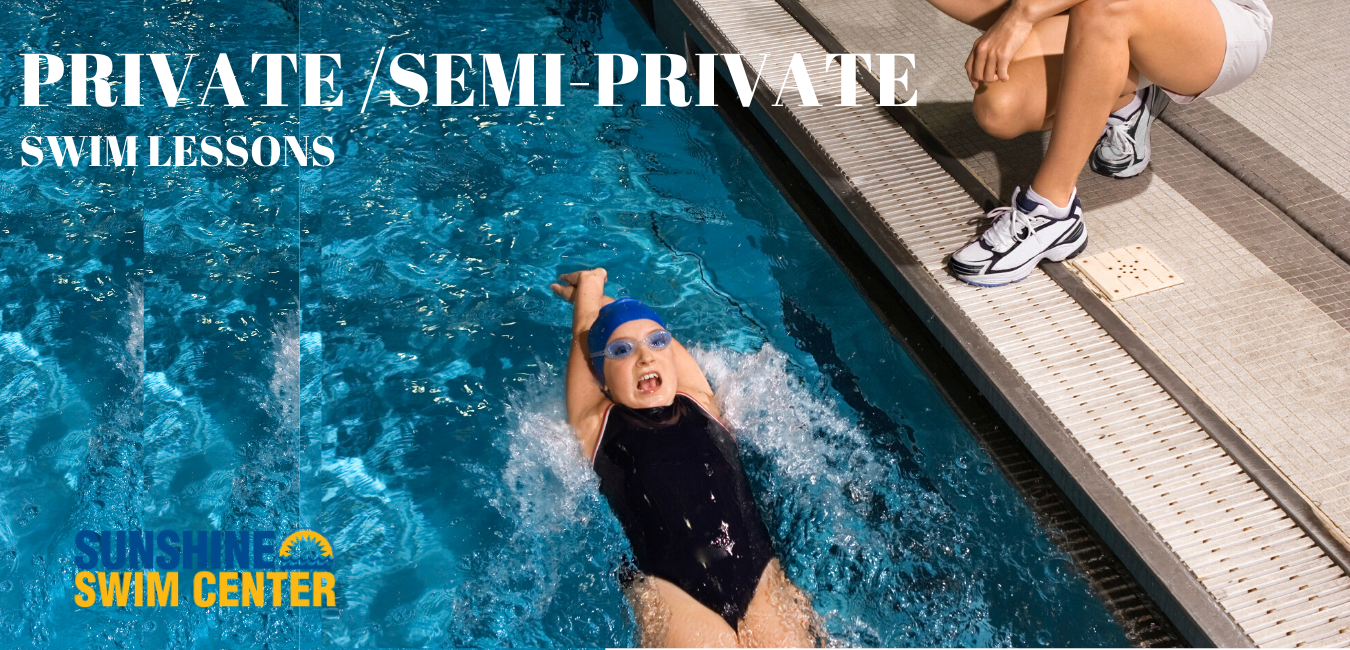 Private Swim Lessons
At the Sunshine Swim and Fitness Center, we understand not every person learns the same way.  Some individuals flourish in a group learning setting while others have more success working one-on-one.  The private swim lessons at Sunshine are tailor-made for each swimmer.  Adults and young swimmers alike can benefit from private classes. Swimmers who are new to the sport, are fearful of the water, are looking for adaptive lessons, or even need a flexible scheduling option, will see positive results with private swim lessons.
Are you already a confident swimmer?  Independent lap swimming or water fitness is also offered at Sunshine Swim and Fitness Center.  Throughout the week, during our calmer parts of the day, lap swimming or water fitness is available to members 18 years and older.  It can be an added program for adults who are taking private lessons and would like to practice throughout the week.  Swimming also compliments any fitness routine; low impact, high resistance, full-body workout.  Of course our pool is also a great depth for those individuals who would like to strengthen their core and gain flexibility in their joints with water walking type exercise.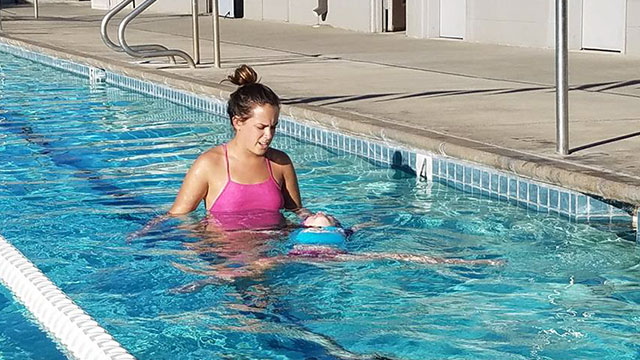 Private Swim Lessons
All pricing is based on a 4-week session.  You may choose from 1 or 2  day a week options. The $25.00 Annual Membership Fee per swimmer (January 2020-December 2020) will be added to your first payment of the year.
1 day per week – $179.00
2 days per week – $325.00
Purchase 4 sessions of private swim lessons at once for a 10% discount.  Sessions can be divided between family members.
Semi-private lessons are the unicorn of our swim lesson program.  Small group setting with the flexible scheduling of a private lesson.
We strongly recommend scheduling a swim assessment before registering for classes.  During the FREE swim assessment, swimmers will be evaluated to determine which swim level they will best be suited for.  Assessments take up to 10 minutes per swimmer and must be scheduled with the office in advance.
*Please understand, if you choose not to complete an assessment and during the first lesson, we determine that your student is not appropriate for the level you selected, we will need to find a class that is more suitable. We will do our best to place your child in a class similar to the time and days you selected,  but are not able to make that guarantee.
Things to Know
An Assessment must be done in advance to ensure the swimmers are of the same or similar ability.
Up to 3 swimmers can be in a semi-private lesson together (can be siblings or family friends close in age)
24-hour notice is required to be granted a make-up if you cannot attend class; all students must miss for a make-up to be granted. If only one student is missing and the class is held the one student will not be eligible for a make-up class.
Cost $48.00 per class. Not per student.
The total cost will be divided equally between each participating family depending on the number of students.
Example – Meeting 1 day a week for 4 weeks Total cost is $192.00. 2 students cost would be $96.00 each or for 3 students $64.00 each.
Private lessons (Current Offerings)
Spring Weekday Session Dates
April Session 4/13-4/23
May Session 4/27 – 5/21
Available Tues and Thurs Only
Mornings – 
10:00a, 10:30a
Available Mon,Tues, Wed, Thurs
Afternoons – 
3:00p, 3:30p, 4:00p, 4:30p, 6:00p, 6:30p
Summer Weekday Session Dates
June Session 6/1 – 6/25
July Session 7/6 – 7/30
Available Mon, Tues, Wed, or Thurs
Mornings – 
10:00a, 10:30a, 11:00a, 11:30a, 12:00p, and 12:30p
Afternoons –
3:00p, 3:30p, 4:00p, 4:30p, 6:00p, 6:30p, 7:00p and 7:30p
Weekend Session Dates
April Session 4/18 – 4/26
May Session 5/2 – 5/17
June Session 6/6 – 6/28
July Session 7/11 – 7/26
Saturday and/or Sunday
Mornings –

Every half-hour from 9:30a – 12:30p
Returned Checks
A reprocessing fee of $25.00 will be collected for checks that are returned due to insufficient funds. This payment in addition to the original payment will need to be made within 3 days of notification of Non Sufficient Funds. Students will not be allowed to participate until payment is made.
Refunds and Cancellations
There are no refunds for SSFC programs.
Group Lesson Make-ups/Cancellations:
Please do not assume class is cancelled if it is raining. Make ups will not be granted if you choose not to come to class. Rescheduling for missed classes is not available for group lessons.
If Sunshine Swim and Fitness Center cancels a class for any reason (such as lightning or accident in the pool) a make-up time will be scheduled for any classes that are stopped prior to 15 minutes into the lesson.  If Sunshine Swim and Fitness Center cannot provide a make-up time, a credit will be issued to the member's Sunshine Swim and Fitness Center account.  All families affected by the pool closure will be sent an email to their "on file" email address notifying families of when the make-up class is scheduled for.  If a make-up time is scheduled, it is at the family's discretion to attend the make-up class.  No credits will be given if the family does not attend the make-up class.  Also, partial credits will not be distributed for classes that exceed the 15-minute mark.
Private Lesson Make-ups/Cancellations:
A minimum of 24 hours notification is required for a make-up class to be granted; same day cancellations are not eligible for a make-up class.  During a (1-day a week) private lesson session only 1 make-up class will be granted for a pre-scheduled missed day.  For a (2-day a week) private lesson session 2 make-up classes will be granted for pre-scheduled missed days.  Once your make-up class has been scheduled; that date and time will be the only opportunity for the make-up.  We are no longer granting rescheduling of make-up classes due to excessive cancellations and no shows.  For semi-private lessons the same criteria and restrictions apply.
Transfer of Classes/ Programs
There are No Refunds. If your schedule changes and you need to adjust your swim schedule you may transfer to a different day/time or session up until the close of business on the Thursday before the first day of the session you are scheduled for.  Attempting to drop a class after the final transfer date will result in loss of spot and no option for transfer or credit for class to your Sunshine Swim and Fitness Center account.  It is the responsibility of the family to contact the Sunshine Swim and Fitness Center for any changes in the enrollment of their swimmer(s) prior to the Thursday before the start of the session.  There are no refunds.
Sunshine Gator Swim Team Cancellation Policy
A $100.00 cancellation fee will be charged to the family, on the credit card on file, if a family decides to discontinue attending practices at any portion of the season.  All cancellation requests must be in writing and be approved by the Sunshine Swim and Fitness Center management.  The Sunshine Gator swim team program is a 4-month commitment.  There are limited number of spots on the team, and once enrolled, the participating swimmer is agreeing to keeping the commitment of the full 4-months; being charge $169.00 at the first of every month of the season.
Questions and Concerns?
If you have any questions or concerns regarding your child there is a 5-minute transition period between the classes to briefly speak with their instructor.  You may also bring your questions and concerns to the attention of the Aquatic Director, Kristin Threw, kristin@sunshineswimcenter.com 
Can't express how happy we are with the coaches, Kim and Sarah are awesome. They listen to your goals and then execute lessons to hopefully meet your expectations. They got my daughter ready for her first year of competitive swimming. You can't put a dollar amount when your child smiles after swimming!
Register Now!
Sunshine Swim & Fitness Center online registration page. Here you can register for Swim Lessons, Summer Camp and Swim Team .