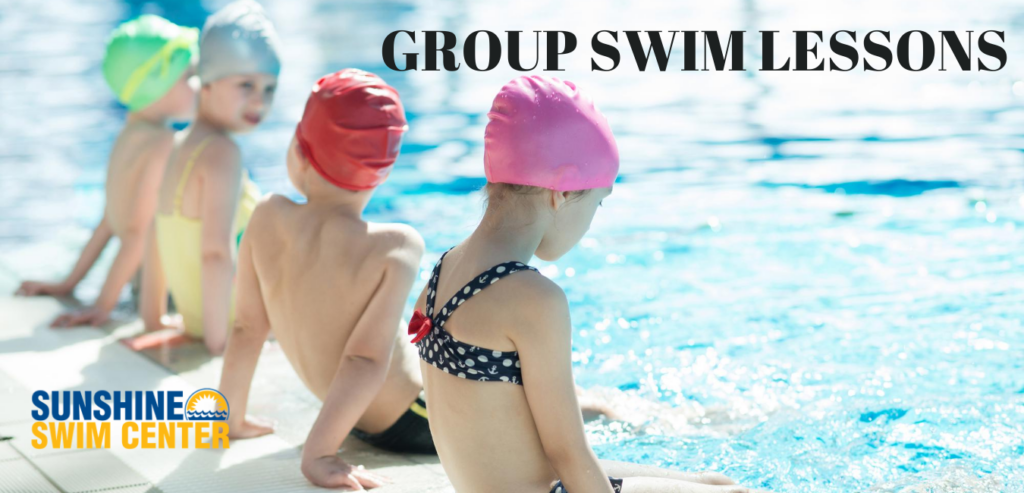 Group Swim Lessons
Sunshine Swim Center offers group swim lessons year round.  We have designed a unique and time proven group swim lessons program for children ages 3-15 years old.  
Our instructors clock in over 20 hours of swim lesson training specific to our programs prior to teaching classes at our facility, it is also important to us they are regularly observed and evaluated throughout their time on deck. We love what we do and want to be sure your swimmer(s) have a great experience!
If you are looking for one-on-one classes, tailor-made for your swimmer, check out our private lesson program.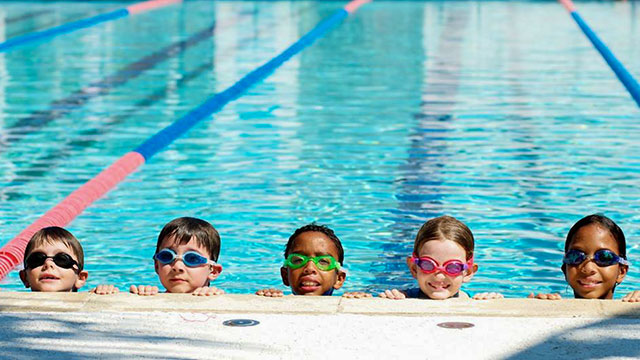 January Group Swim Lessons
Enrollment Begins: November 1st
Early Bird Special – Book January Lessons before December 15th and save up to $50.00 off annual membership fee.
January 4 – January 28
High School Swim Clinics:
*Specifically for high school Freshmen – Seniors
Monday-Thursday
3:45-5:00PM
Cost: $169
Weekend Swim Clinic
Ages 5-15
Must have completed Otter Level to be Eligible
Saturday and Sunday
12:00-12:55
Cost: $169
Interested in Swim Team? DETAILS HERE
February Group Swim Lessons
Enrollment Begins: January 4th
February 1 – February 
High School Swim Clinics:
*Specifically for high school Freshmen – Seniors
Monday-Thursday
3:45-5:00PM
Cost: $169
Weekend Swim Clinic
Ages 5-15
Must have completed Otter Level to be Eligible
Saturday and Sunday
12:00-12:55
Cost: $169
Interested in Swim Team? DETAILS HERE
Group Swim Level Descriptions & Pricing
Listed below are the swim levels, what skills they will be working on in class. Pricing is for 8 classes.
We strongly recommend scheduling a swim assessment before registering for classes.  During the FREE swim assessment, swimmers will be evaluated to determine which swim level they will best be suited for.  Assessments take up to 5-7 minutes per swimmer and must be scheduled with the office or online in advance.
*Please understand, if you choose not to complete an assessment and during the first lesson, we determine that your student is not appropriate for the level you selected, we will need to find a class that is more suitable. We will do our best to place your child in a class similar to the time and days you selected,  but are not able to make that guarantee.
Tadpole, Frog, Sea star, and Goldfish Classes are not offered at this time due to social distancing guidelines.  Please follow link to Private Lessons. 
Beginning Levels –

Tadpoles (ages 3-5): New to the water environment, these little swimmers will learn how to navigate in the water submerging themselves, blowing bubbles, and floating in front and back positions with heavy assistance from the instructor. Class stays close to the wall and sits on the stairs. (3 students maximum per class) $129
Frogs (ages 3 and up): Swimmers will learn how to propel themselves through the water, float on their backs independently, learn basic safety rules and jump into the pool and swim to the side.  Class stays close to the wall and sits on the stairs.(3 students max. per class) $129
Sea Stars (ages 3 and up): Gaining more independence in this level, students will be swimming distances of up to 15 feet independently.  Using both their arms and legs in a coordinated effort to travel farther distances and well as learn to rescue roll to take breaths. (3 students max. per class) $129
Intermediate Swimmers
Goldfish (ages 3 and up): Swimmers in this level will be working on the development of their freestyle technique; still rolling over to take breaths, learn the basics of using a kick board for distance and practice swimming with no goggles on for portions of the class.  The target swimming distance is 7 yards for this level. (4 students maximum per class) $89
Sunfish (ages 4 and up): Swimmers will learn the progression of freestyle side breathing (front crawl breathing). Swimmers will continue to work on rotation and floating skills, and be introduced to treading water. Students will swim distances of up to 12 yards.  (4 students maximum per class) $89
Blowfish (ages 5 and up): Swimmers will learn: freestyle/front crawl with side breathing, introduction to backstroke, surface dives as well as from the top of the wall. Continuing with the use of the kick board swimmers will be aiming for 25 yards. Students will be swimming distances of 15 yards or greater without the kick board in the level.  (4 students maximum per class) $89
Advanced Swimmers
Otter: Swimmers will be focusing on learning backstroke, continuing working on side breathing and more advanced safety skills such as deep water bobbing and treading water for 30 seconds. (4 students maximum per class) $89
Sting Ray: At this level of swimming, students will now be expected to swim distances greater than 50 yards at a time without stopping.  In this process it is necessary to learn how to complete flip turns at the walls, dives, alternate breathing, and tread water for a minute.  (6 students maximum per an instructor) $89
Flying Turtle: Swimmers will learn the basics of breast stroke and butterfly in this level, in addition to building endurance and stamina for all other competitive strokes. (6 students maximum per an instructor) $89
Clinics: Swimmers must be able to effectively demonstrate  50 yards (2 laps) of freestyle and backstroke; incorporating flip turns/cross over turns at each wall and 25 yards of correct breast stroke and butterfly to participate in swim clinics.  These lessons are 55-minutes in duration.  (12 students maximum per instructor)​ $169
Guidelines and Policies
Guidelines
Preparing for Swim Lessons
For many children feeling rushed or unprepared, coupled with a new environment; like the swimming pool can be stressful. Please be punctual.  Swim classes begin promptly on the hour and every half hour.  Your students will be greeted at the pool gate by their instructor.  It is important that they are prepared by having their swim caps on/hair tied back, shoes and cover-ups removed, and goggles in hand.
In order for all participants to get the maximum out of each lesson we ask that after you drop off your swimmer(s) to step back, find a comfortable spot in our observation area, and let the instructors begin the lesson.
To avoid clutter, and possible incidents, around the pool entrance please hold onto your swimmers towels, shoes and clothing.
What if my swimmer cries?
Sometimes when children are unsure of their environment they will cry.  If your child cries in class the best thing for you to do is support your child and their instructor by being patient and reassuring.  It is not easy, as a parent, to step away if you feel your child is distressed but we ask that you find a comfortable seat, preferably not in direct sight of your child, and allow your child, the instructor, and the other students to bond.  After the class is over encourage them for their effort and allow them to tell you about what they learned during class.  Other things that may affect your child's experience in the water would be; being hungry, thirsty, overly tired, or just waking up from a nap; please take these factors into consideration when scheduling your lessons.
Safety First
Safety on the pool deck begins with sunscreen, hats for observers, and water to drink.  If you don't bring these supplies with you our registration office has these items available for purchase. In each class we stress the importance of being safe; especially walking around the pool deck. There is a no tolerance policy for; horseplay, swinging, hanging or climbing over the pool fence, running around the deck, in the observation area, bathrooms or locker room.  Help us limit injuries caused by these activities by keeping a watchful eye on our children.  Your safety is our first priority.
Parking at our Facility
During our summer session our parking lot will be very busy. Please be cautious and patient when finding a parking spot.  There is no designated drop-off area at the facility entrance. We ask that you walk your children into Sunshine Swim Center.  We also request you pick them up
poolside and not have them walk out of the facility alone.  We have no way of monitoring the area outside of the facility.
Policies –
Returned Checks
A reprocessing fee of $25.00 will be collected for checks that are returned due to insufficient funds. This payment in addition to the original payment will need to be made within 3 days of notification of Non Sufficient Funds. Students will not be allowed to participate until payment is made.
Refunds and Cancellations
There are no refunds for SSFC programs.
Group Lesson Make-ups/Cancellations:
If SSFC cancels a class for any reason (such as lightning or accident in the pool) a make-up time will be scheduled for any classes that are stopped prior to 15 minutes into the lesson. If SSFC cannot provide a makeup time, a credit will be issued to the member's SSFC account.  Partial credits will not be distributed for classes that exceeded the 15 minute mark. If a makeup time is provided, credits will not be issued.
Please do not assume class is cancelled if it is raining. Make ups will not be granted if you choose not to come to class. Rescheduling for missed classes is not available for group lessons.
Private Lesson Make-ups/Cancellations:
A minimum of 24 hours notification is required for a make-up class to be granted; same day cancellationswill not be made up.
Class Transfers- Group Lessons/Programs
If your schedule changes and you need to transfer classes, (time/session) you may do so up to 72 hours before the first day of the session. A $15 transfer fee will be due at the time of transfer per a participant.
Questions and Concerns?
If you have any questions or concerns regarding your child there is a 5-minute transition period between the classes to briefly speak with their instructor.  You may also bring your questions and concerns to the attention of the Aquatic Director, Kristin Threw, kristin@sunshineswimcenter.com 
Can't express how happy we are with the coaches, Kim and Sarah are awesome. They listen to your goals and then execute lessons to hopefully meet your expectations. They got my daughter ready for her first year of competitive swimming. You can't put a dollar amount when your child smiles after swimming!